Oak CLASS Page
Welcome to the Early Years Foundation Stage (EYFS)
We are so excited to start the new school year and to get to know everyone. We have been really enjoying seeing all your photo updates on Tapestry and we are so pleased your new teddy bears are having so much fun.
We are going to have a fun-filled, exciting time together!
We will be starting our learning with a teddy bear theme so get ready to help us prepare for a special teddy bear picnic.
Remember if you have any questions you can email our class email - oak@coppicevalley.n-yorks.sch.uk or contact us via Tapestry.
We can't wait to see you all very soon,
Mrs Hardy and Mrs Leach
Please find a document below outlining our policy and philosophy of Early Years education (2020) at Coppice Valley
You may also like to check out the EYFS websites below:
White Rose Math

White Rose Maths Team has prepared a series of five maths lessons for each year group from Year 1-8. Every lesson comes with a short video showing you clearly and simply how to help your child to complete the activity successfully.

Active Learn: Read online Bug Club Books and visit the Math Factor.
Numberblocks: Sing along and learn all about numbers with the Numberblocks!
Alphablocks: Watch as the letters of the alphabet tell stories and make words using phonics. Play the learning game, watch clips and print colouring pages.
Epic Phonics: One month free membership.
Phonics Play:

You will find lots of games and ideas to explore with children at home. Free membership.

Tapestry: Visit home Coppice Valley home learning ideas and share your learning.
Stay at Home Story Time: Oliver Jeffers will be reading one of his books every weekday and talking about some of the things that went into making it.
Time To Come In, Bear written by Kim St. Lawrence - A story explaining social distancing to young children
APPs for EYFS
All previous home learning...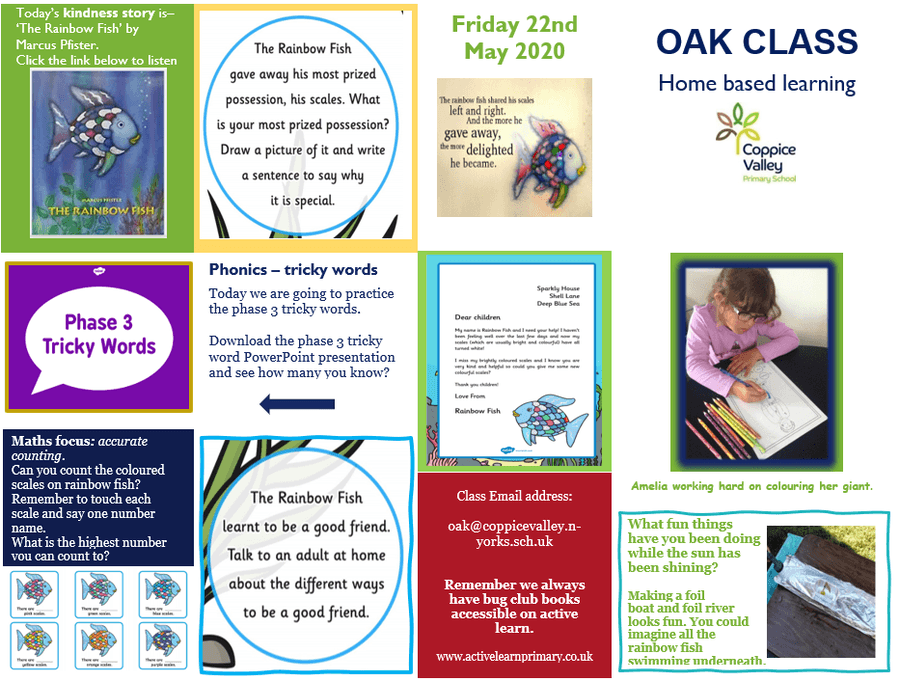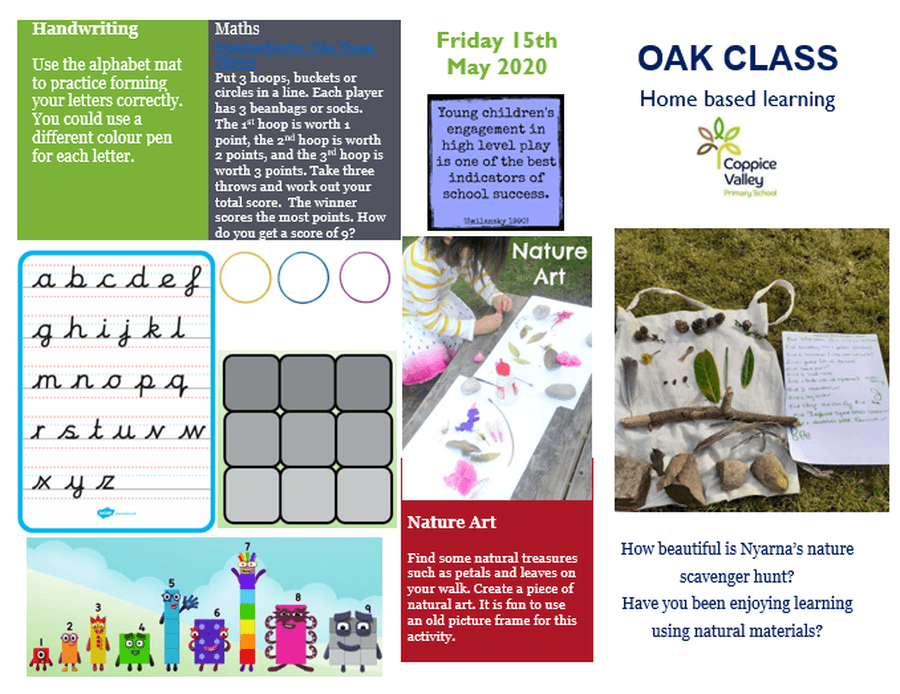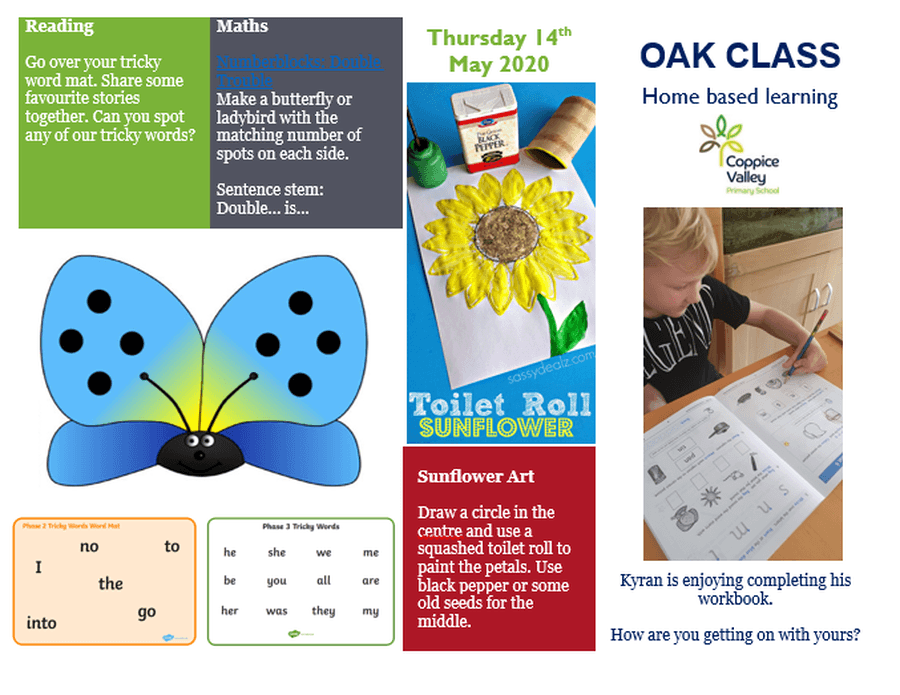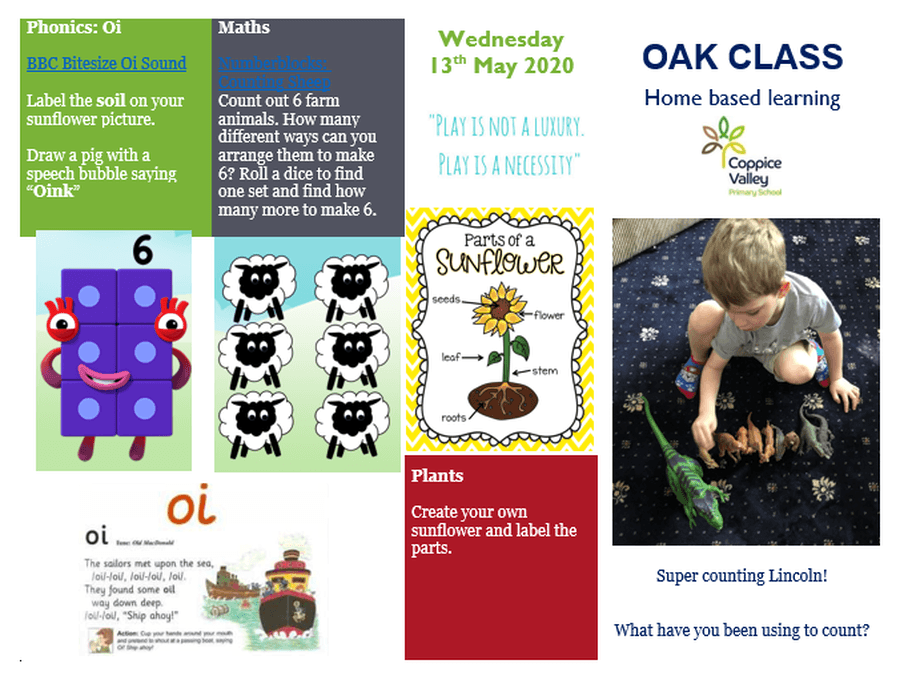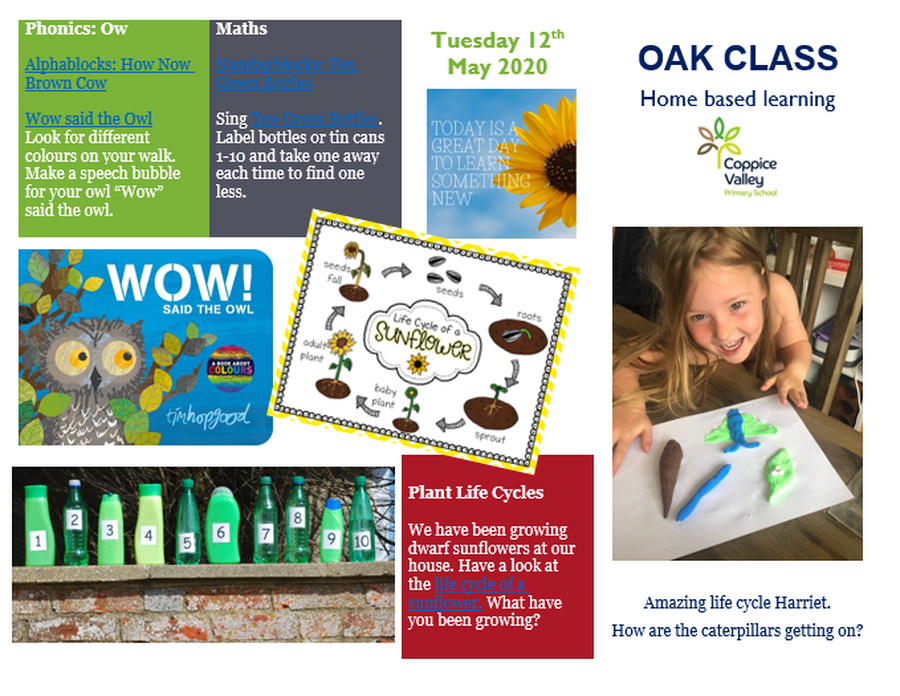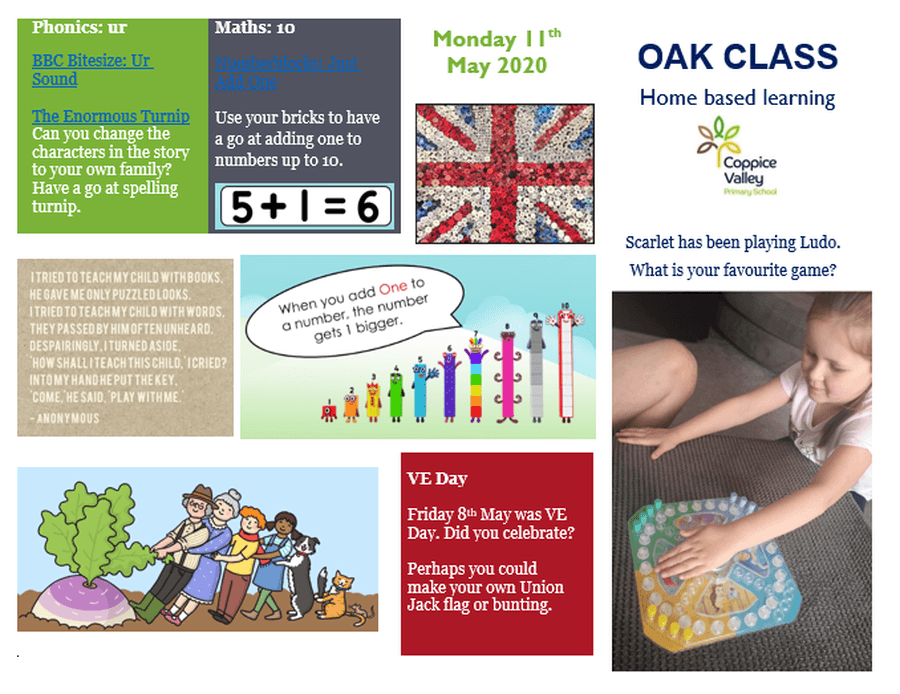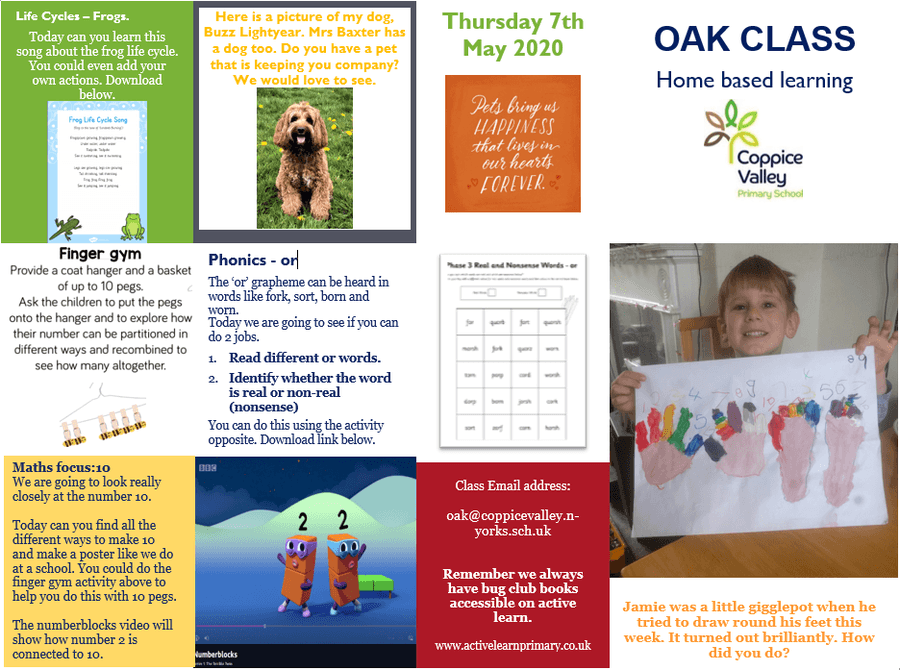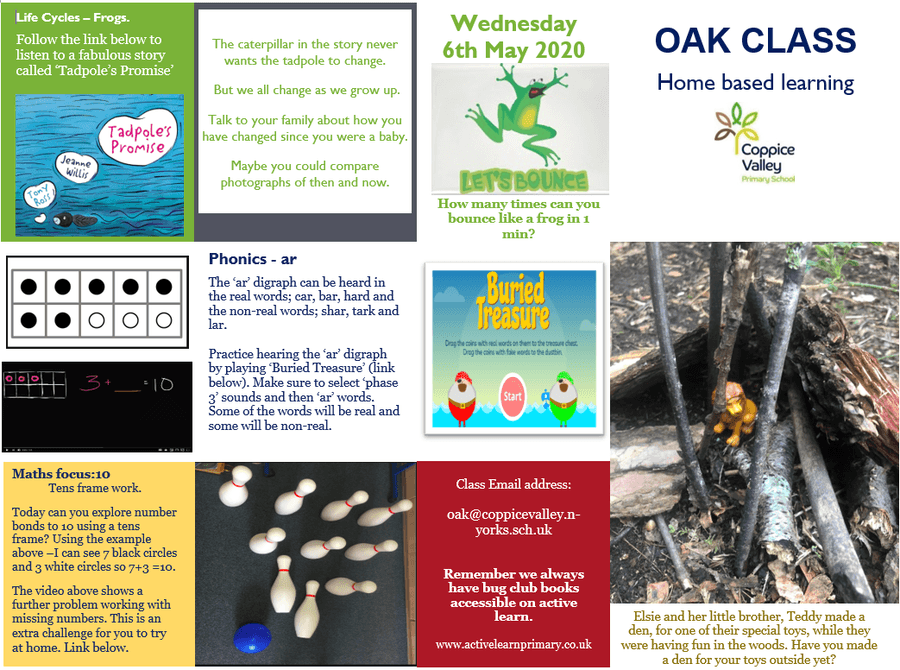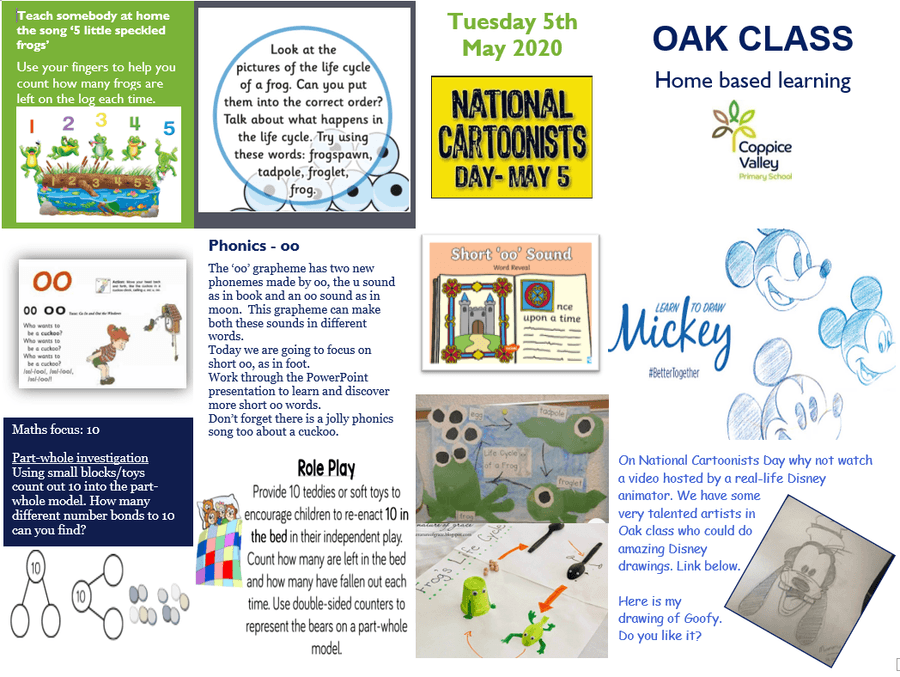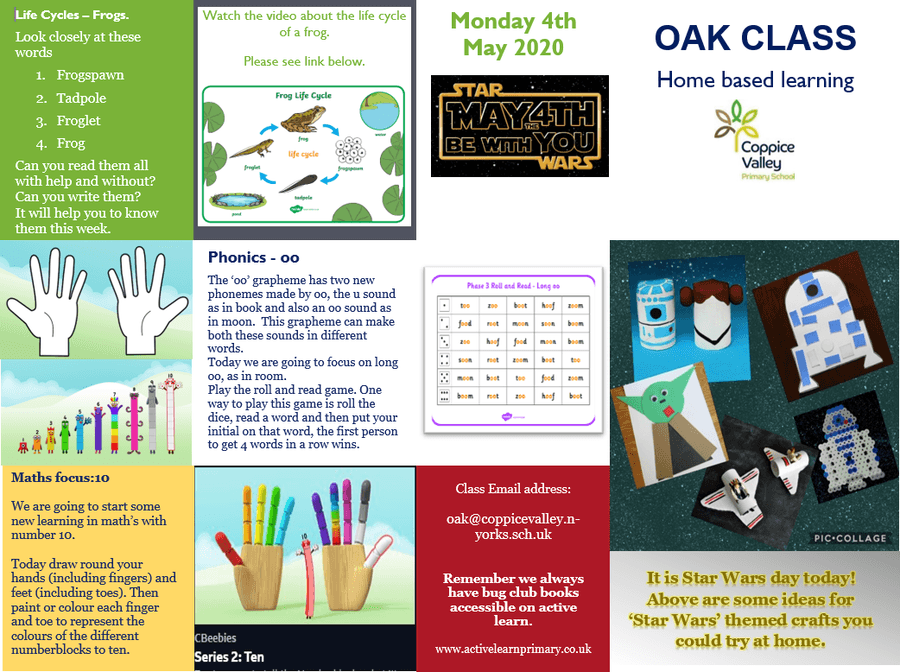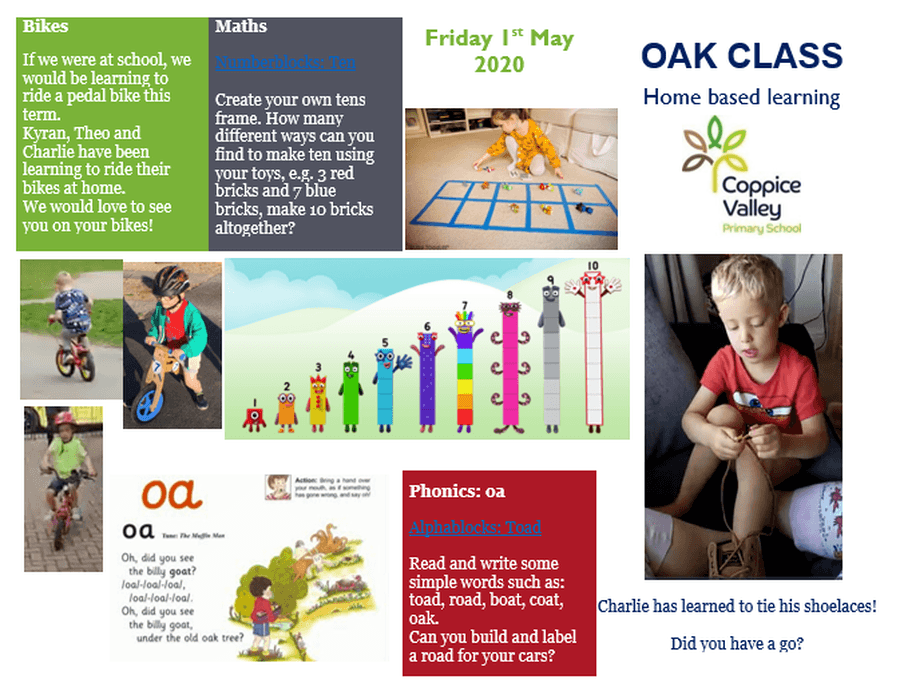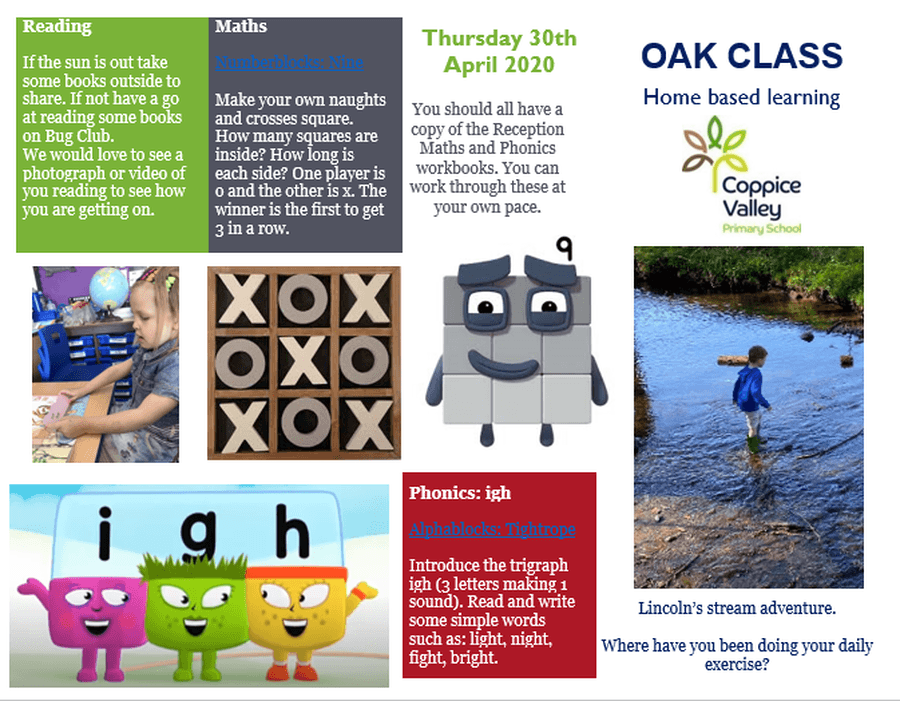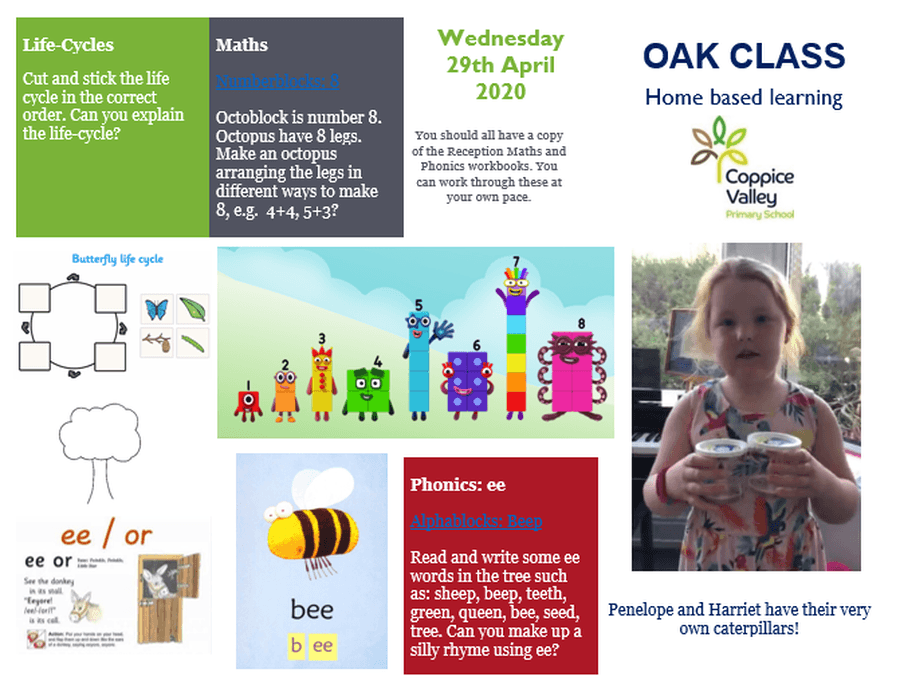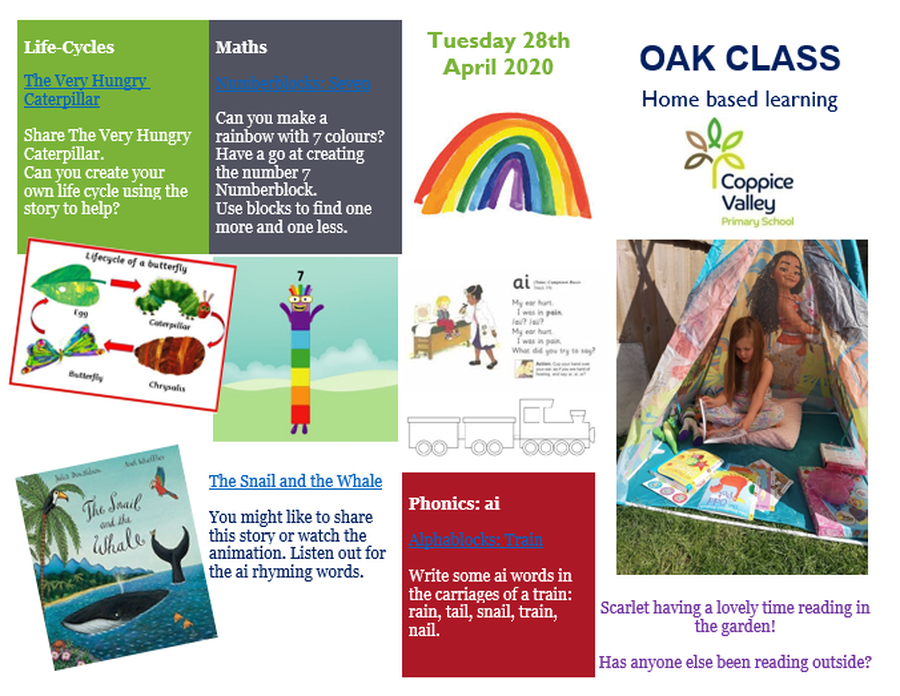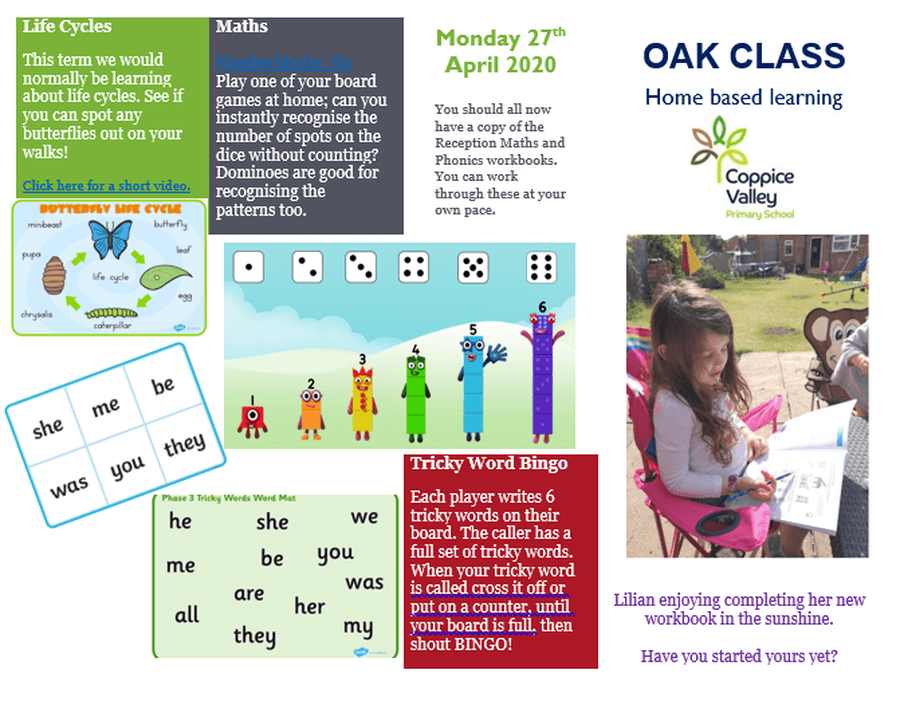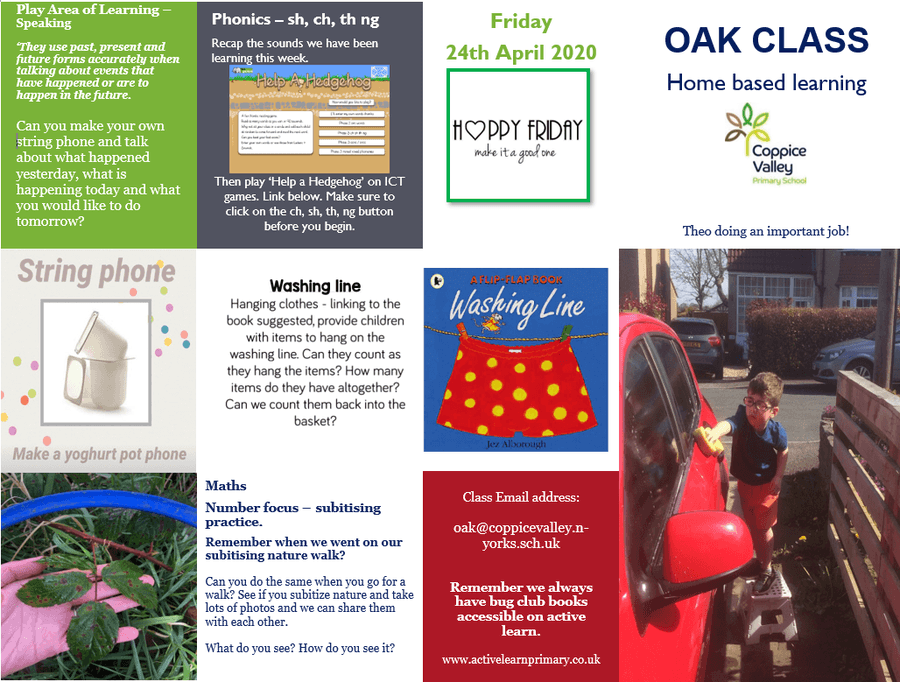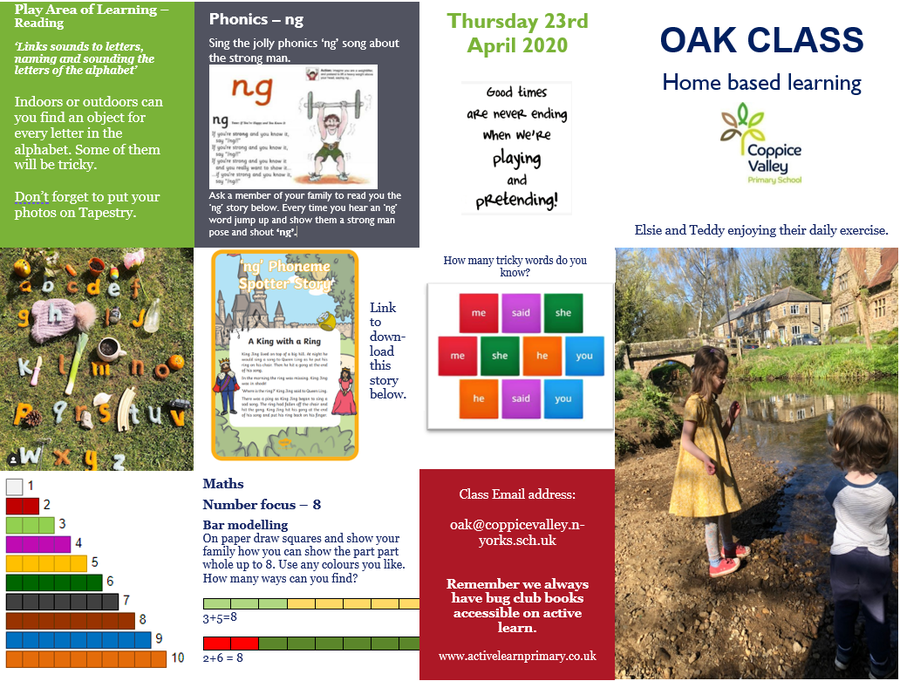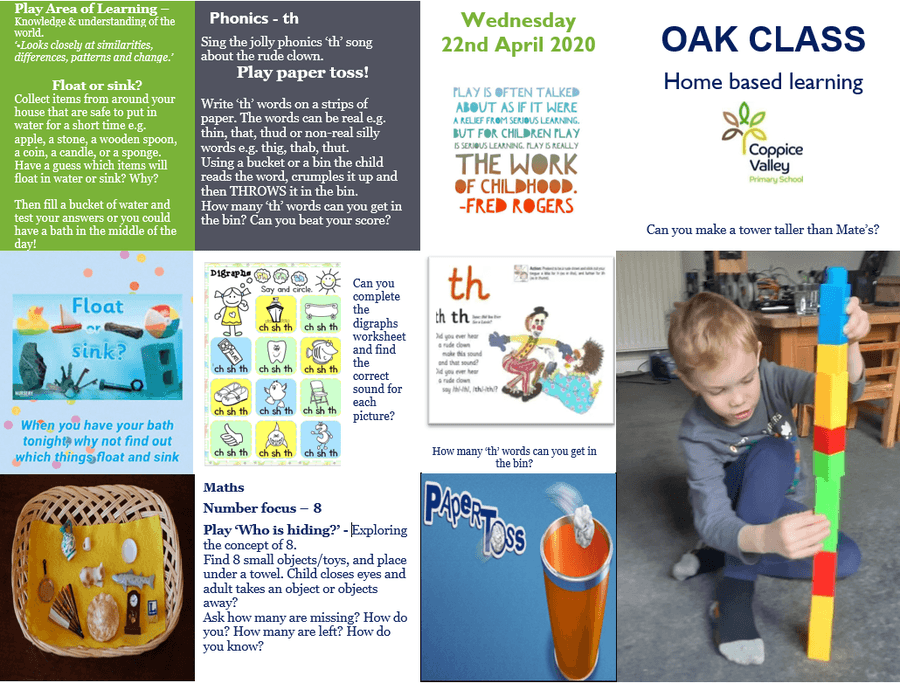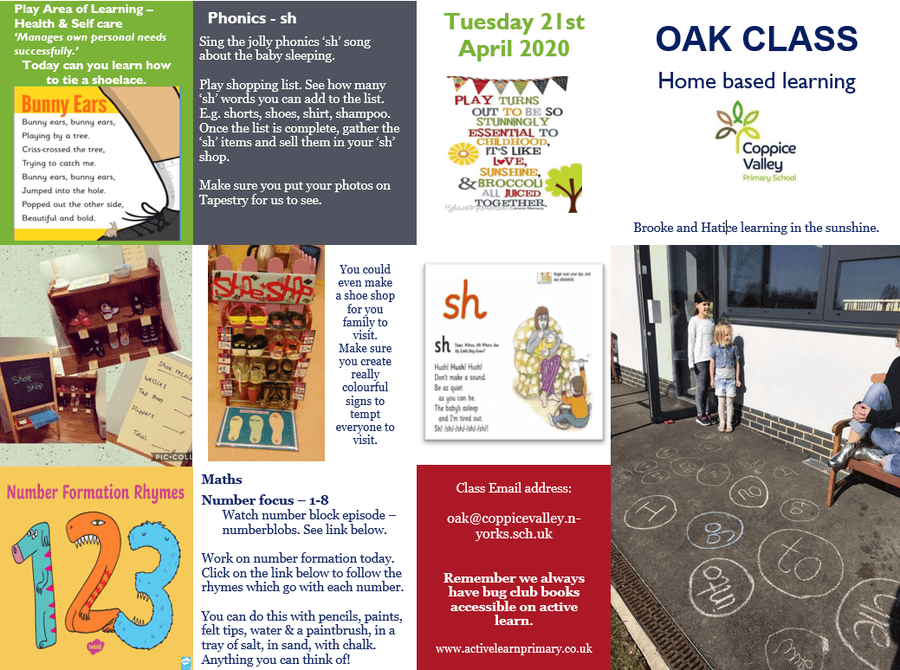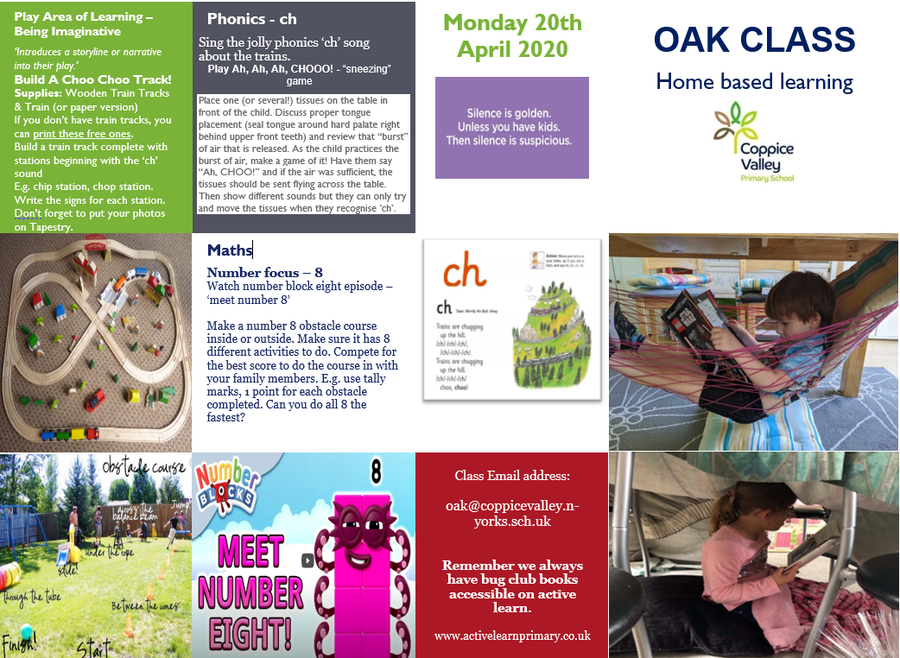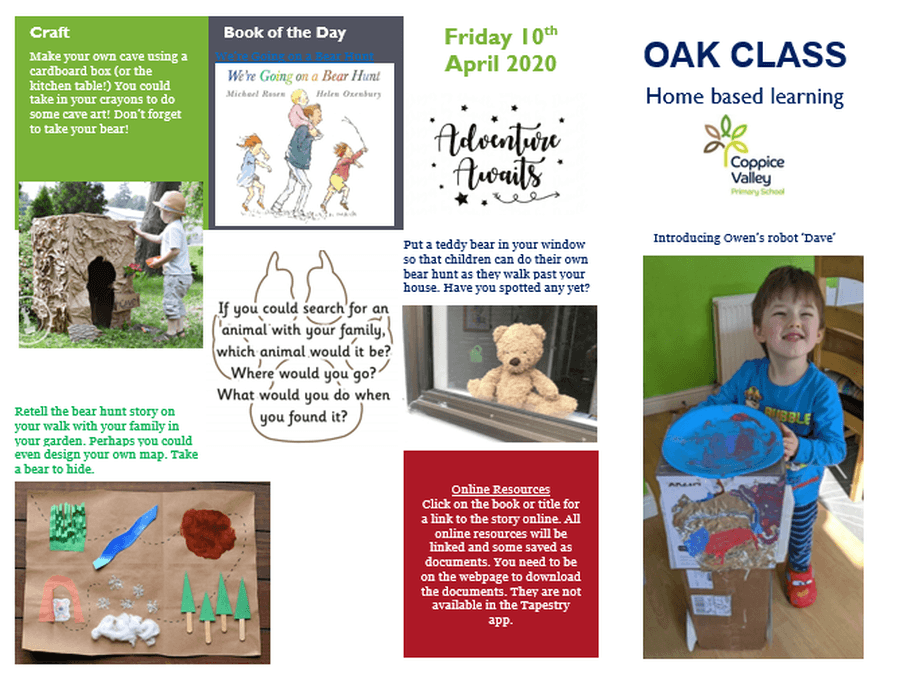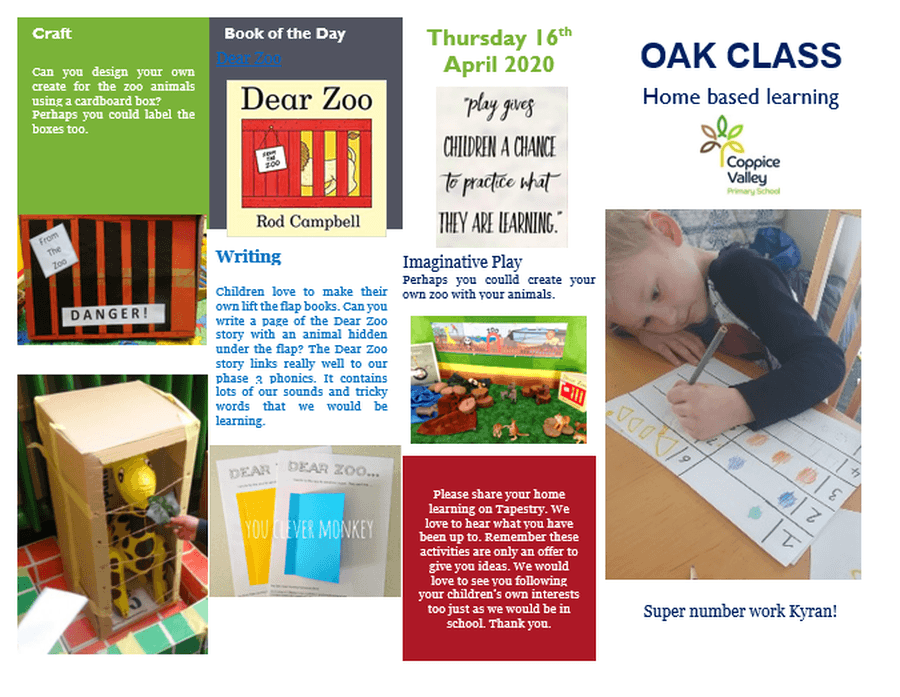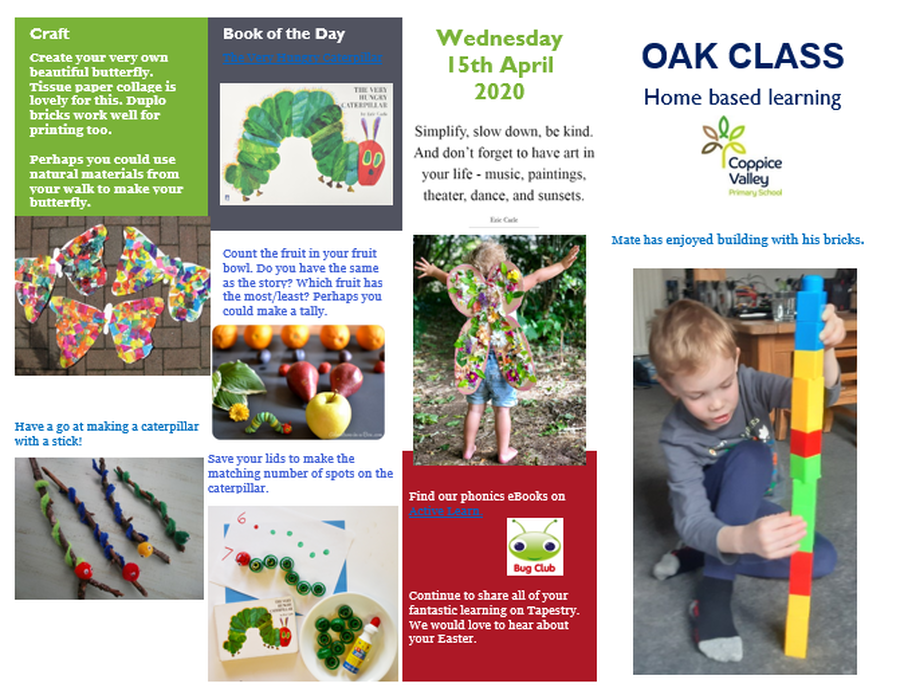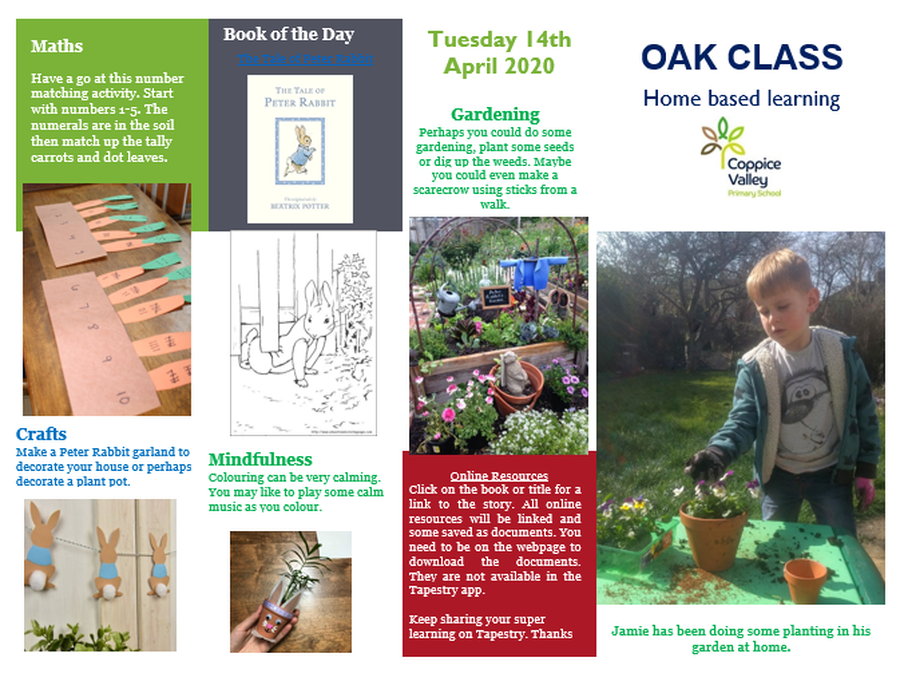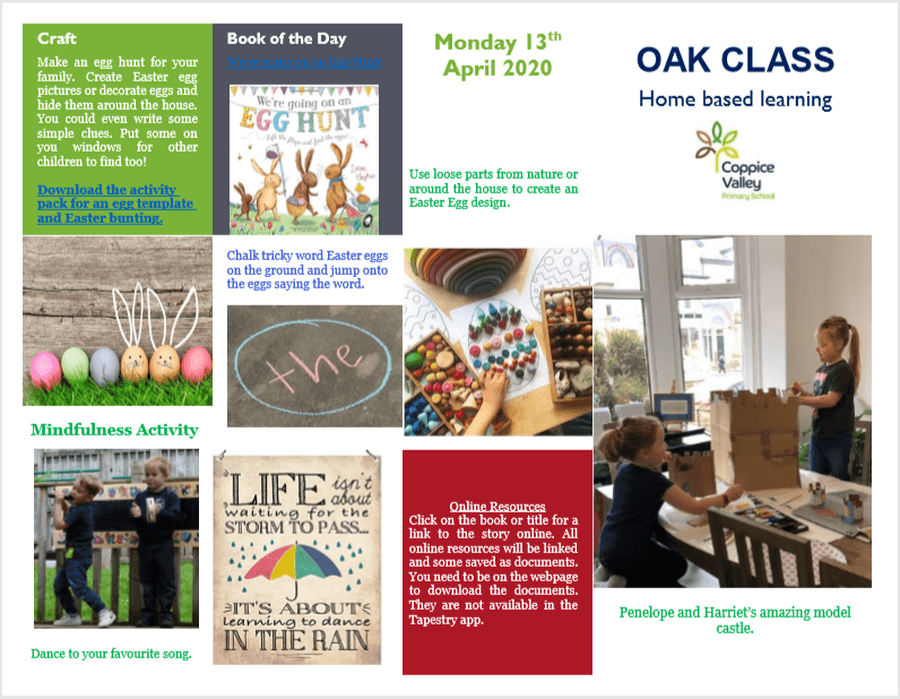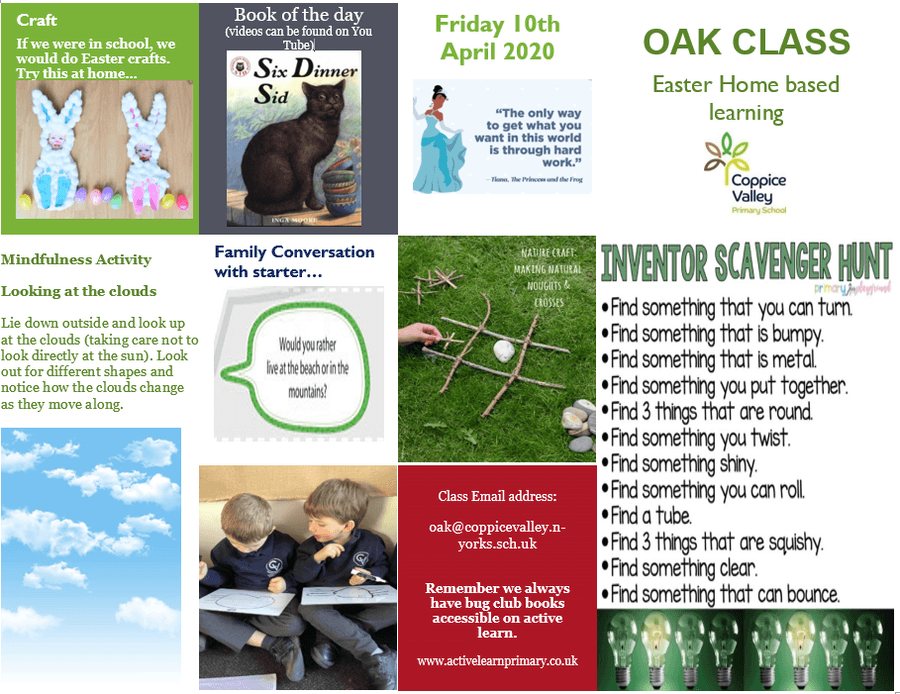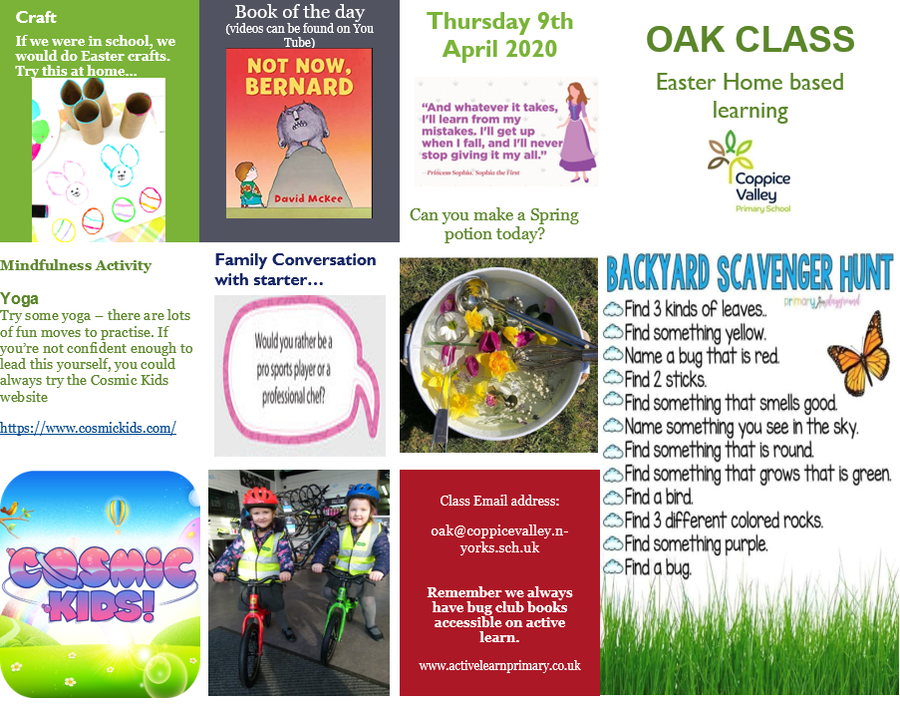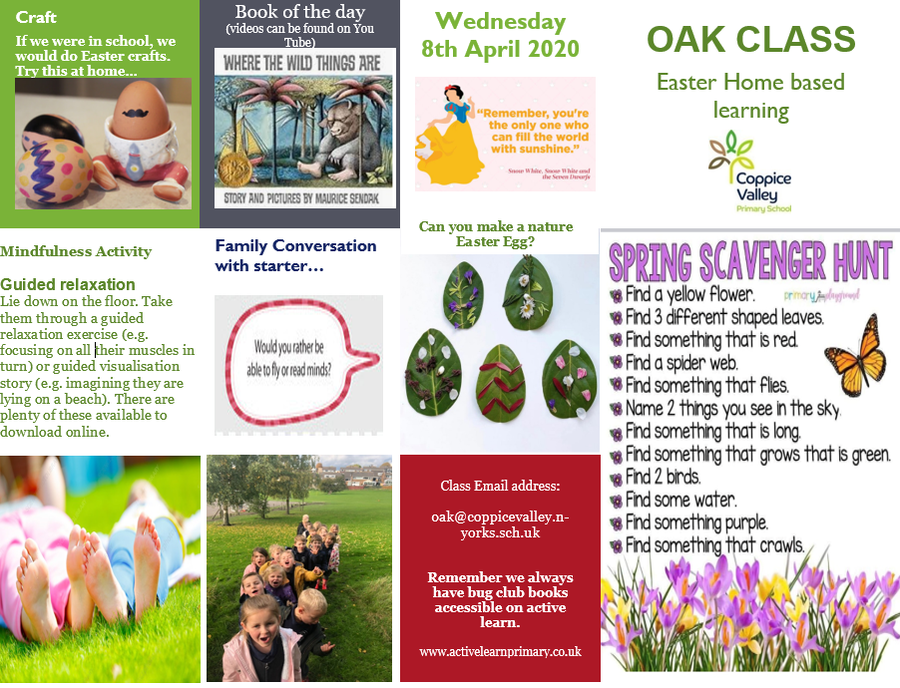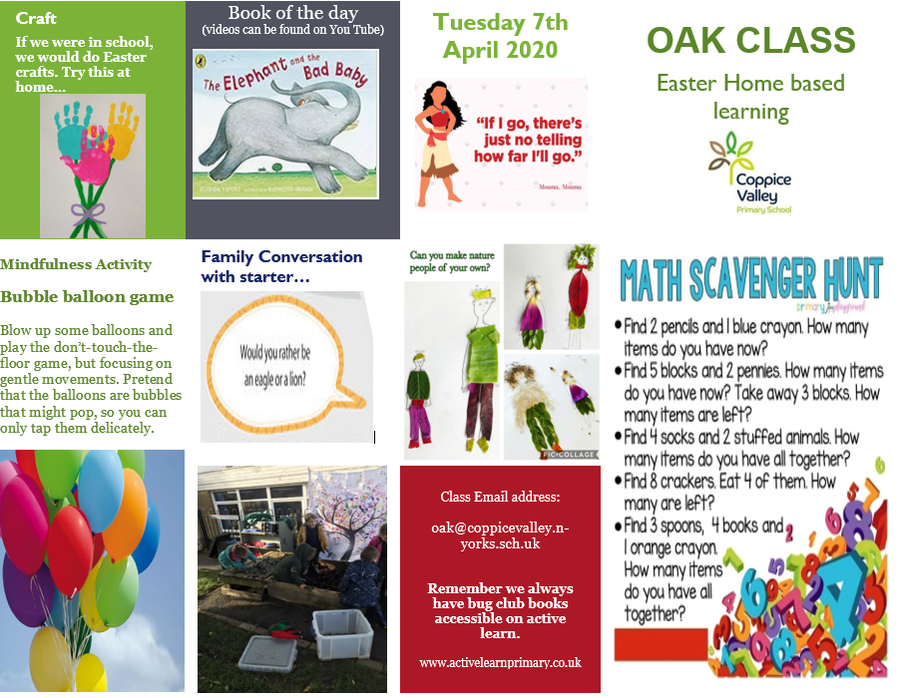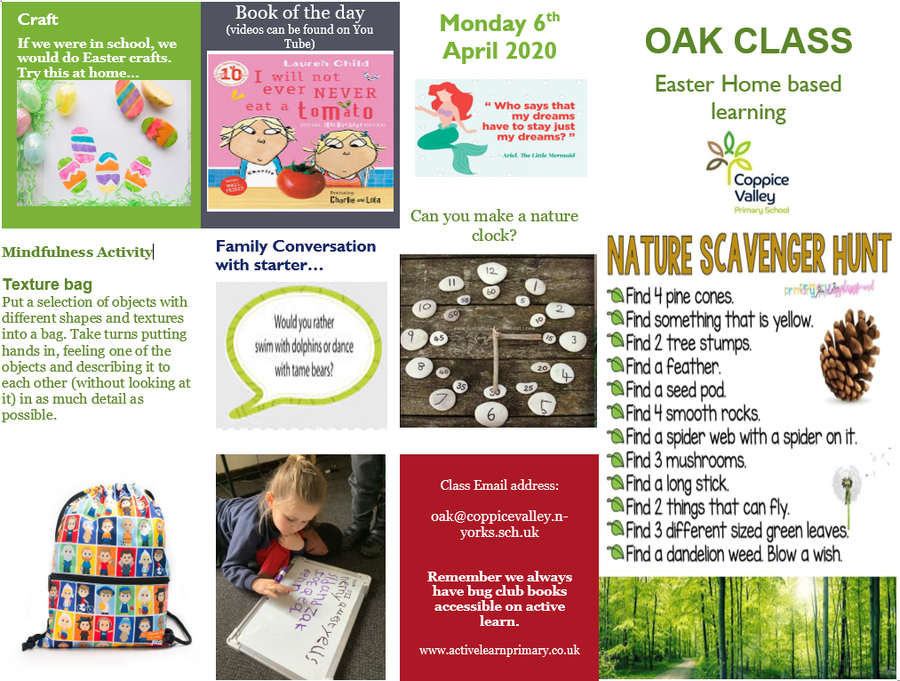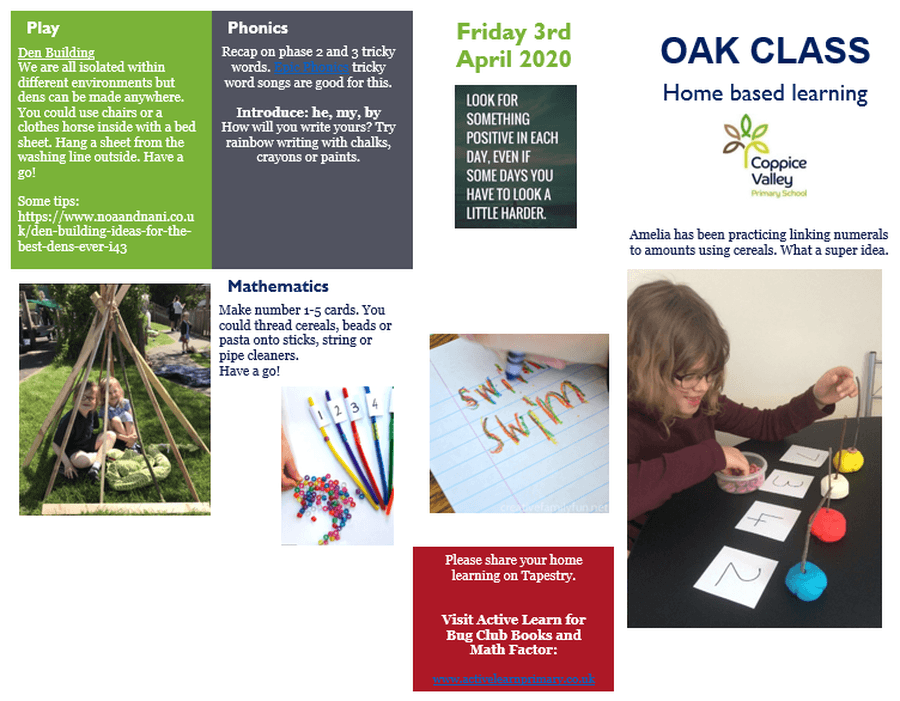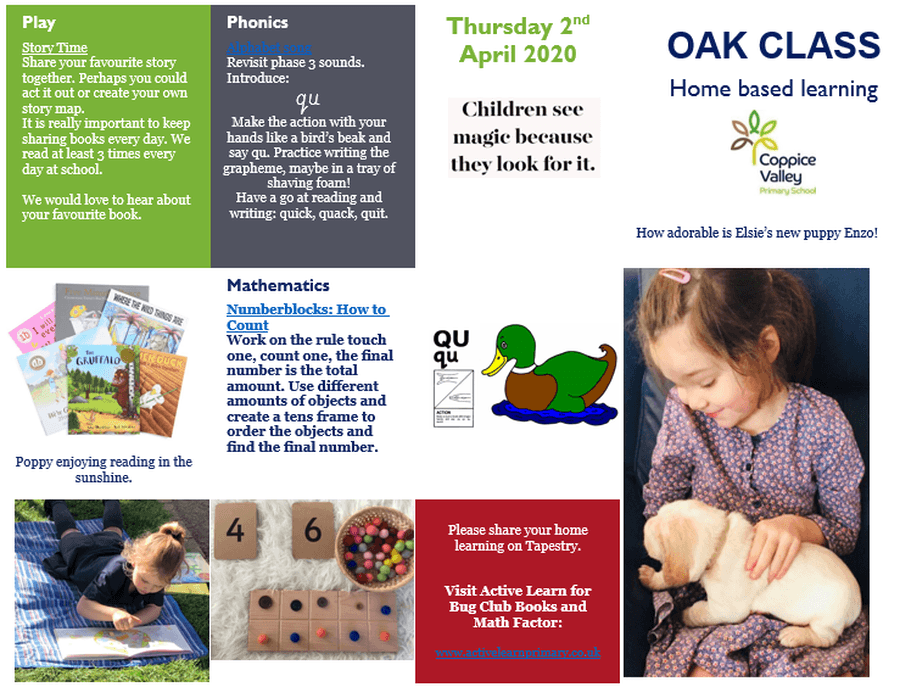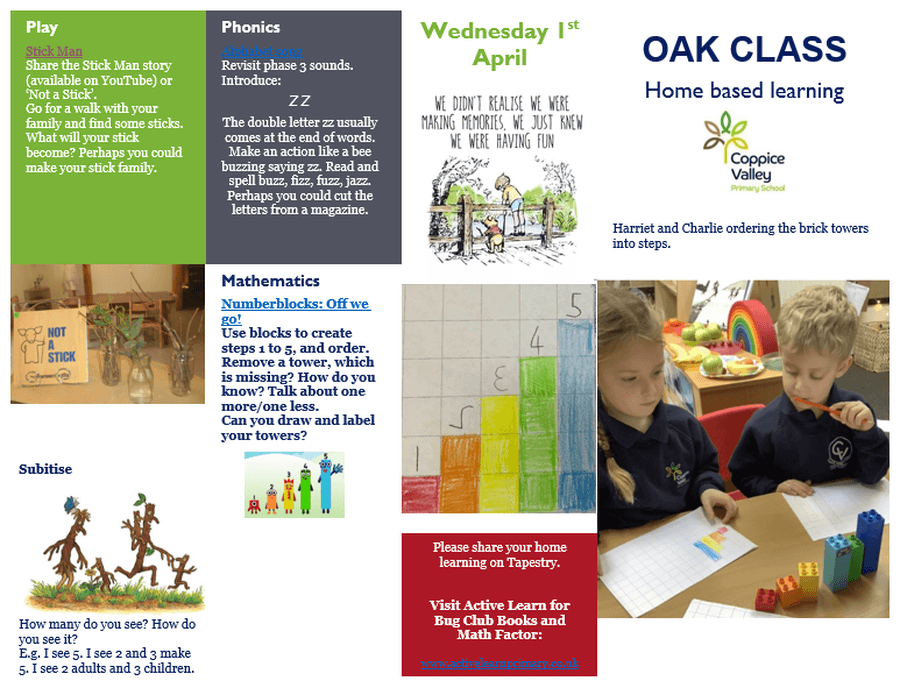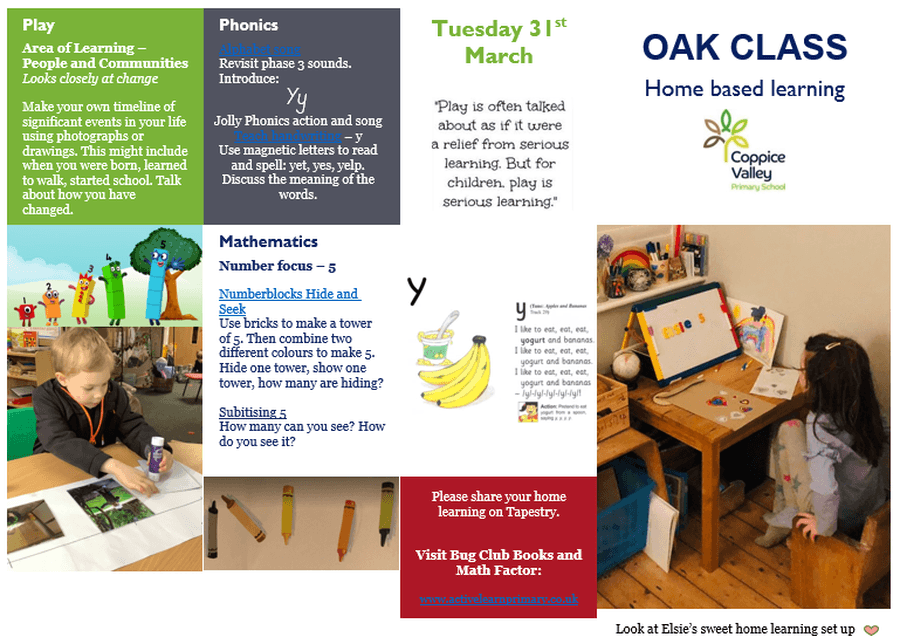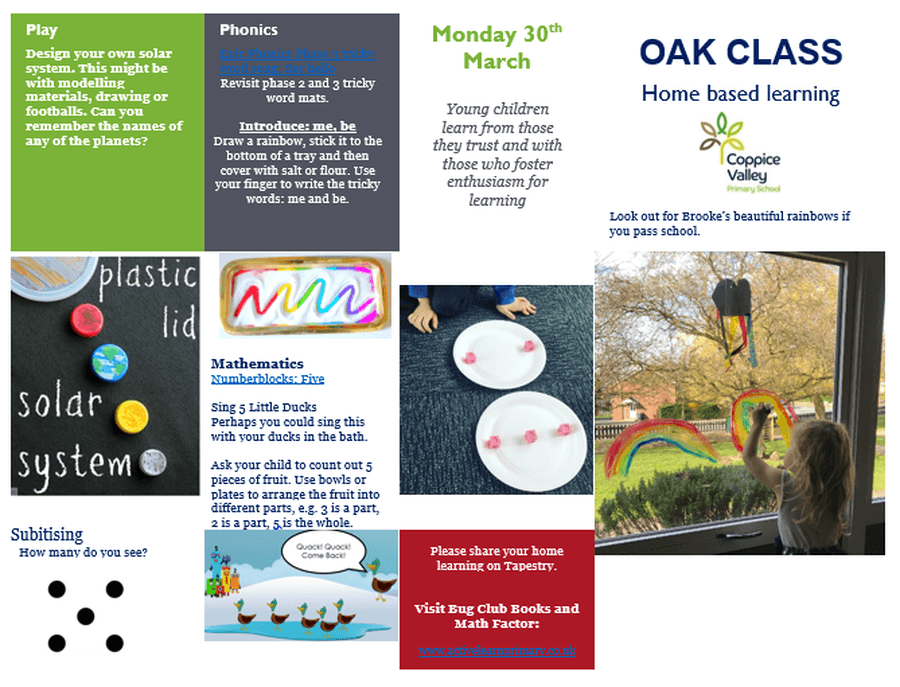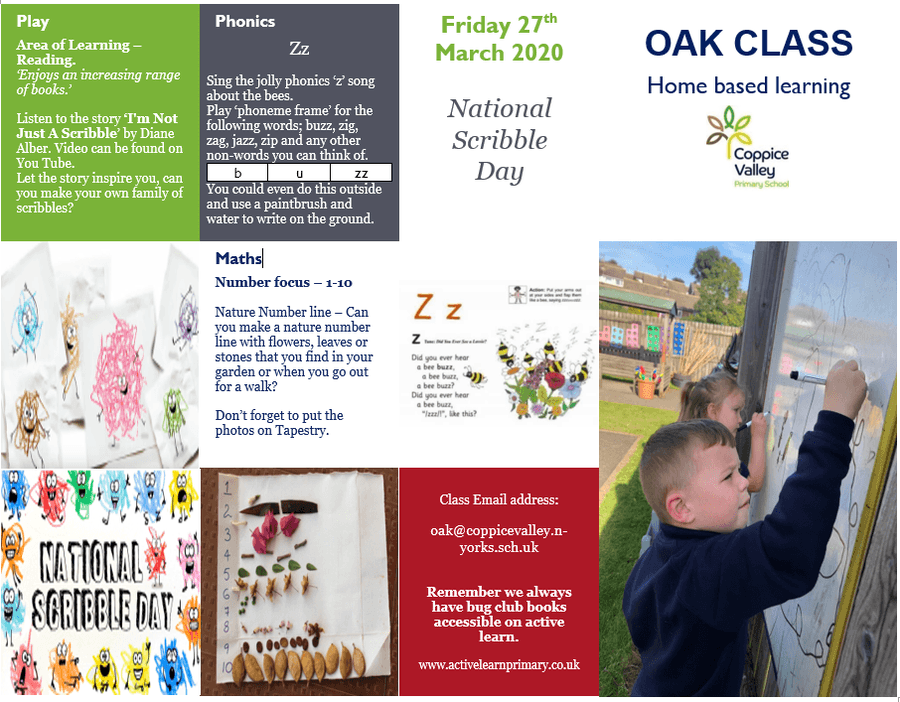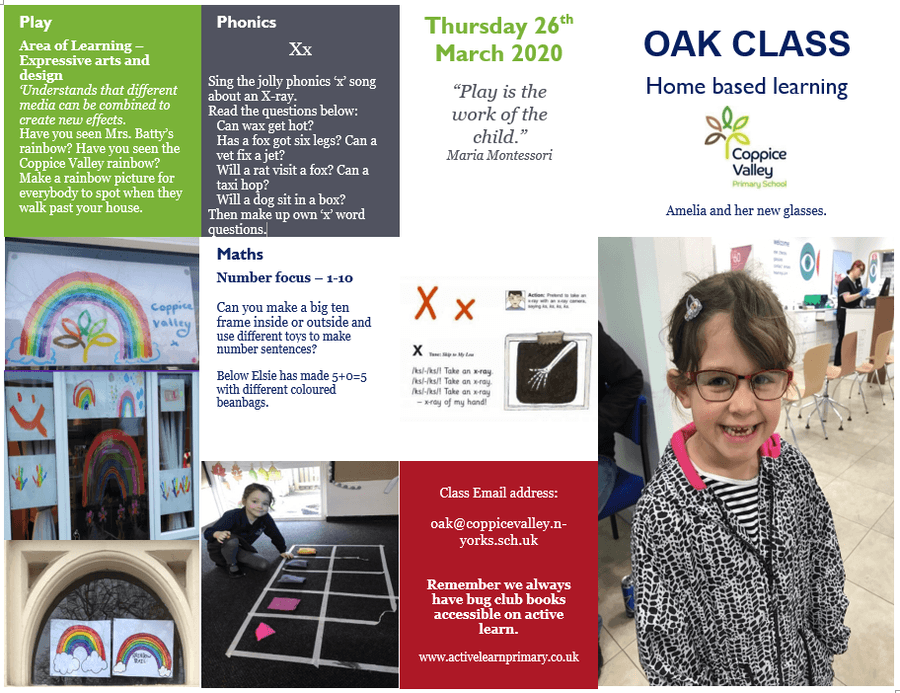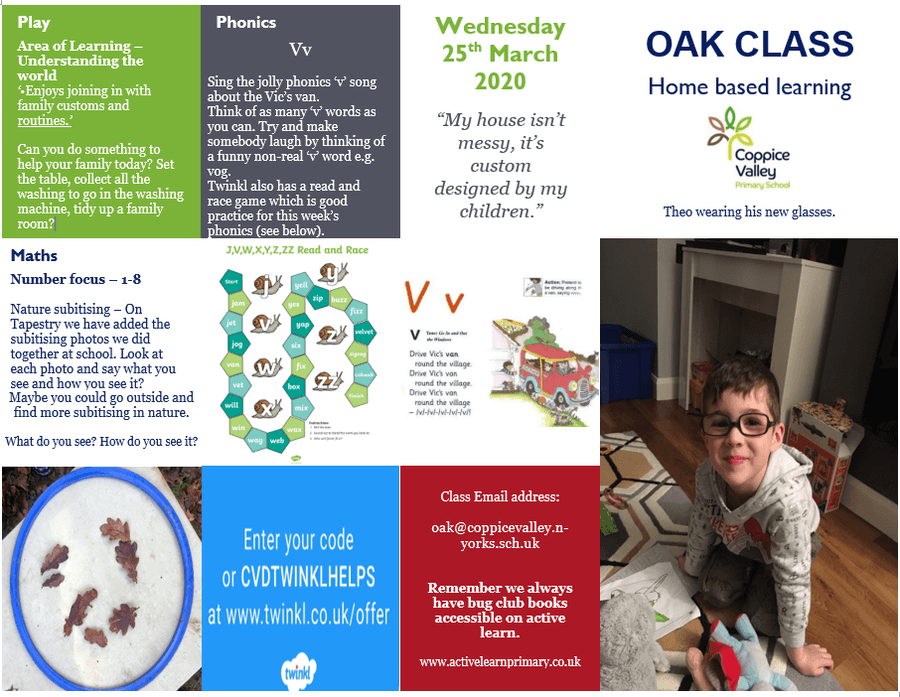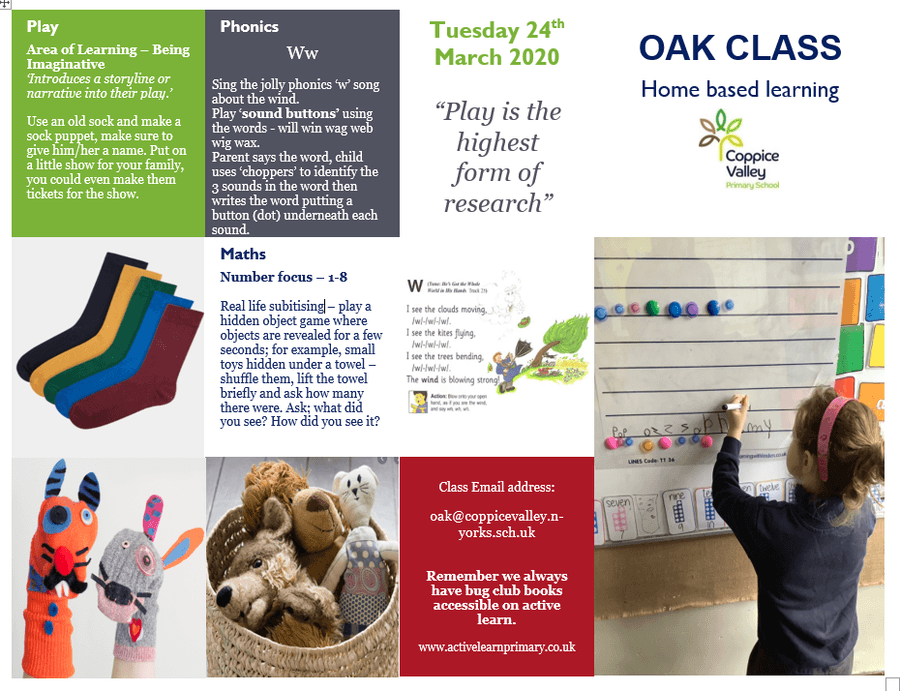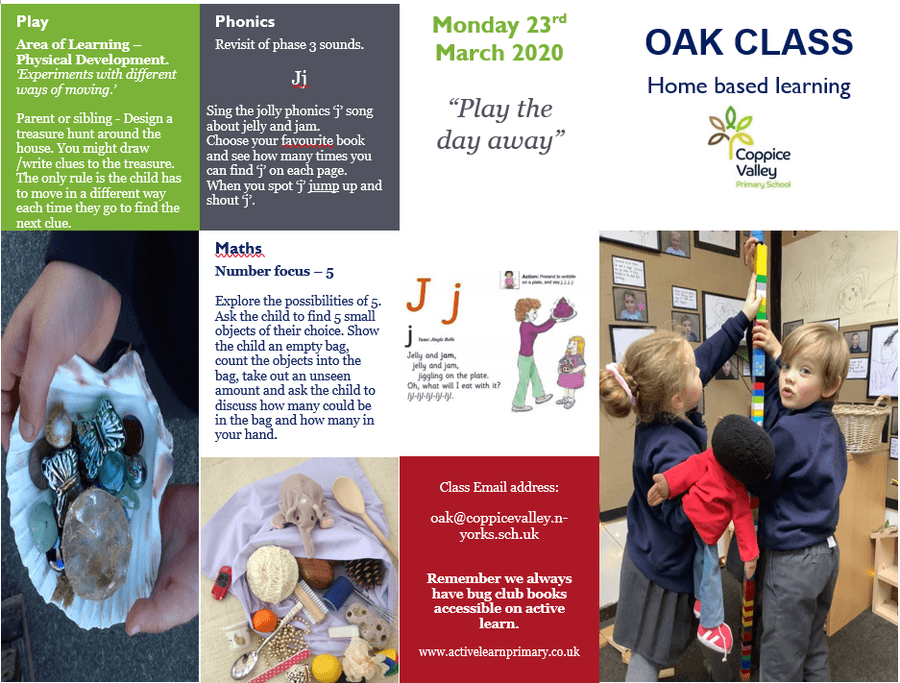 Mathematics
There are six key areas of early mathematics learning, which collectively provide a platform for everything children will encounter as they progress through their maths learning at primary school, and beyond:
Cardinality and Counting
Comparison
Composition
Pattern
Shape and Space
Measures.
These areas form the fundamental mathematical basis of a CBeebies series of five-minute animated programmes called Numberblocks. We use these and the NCETM materials to draw out and build on the maths embedded in the stories contained in each episode.
Phonics
Phonics is recommended as the first strategy that children should be taught in helping them learn to read. It runs alongside other teaching methods such as Guided Reading and Shared Reading to help children develop all the other vital reading skills and hopefully give them a real love of reading.
So what is phonics?
Words are made up from small units of sound called phonemes. Phonics teaches children to be able to listen carefully and identify the phonemes that make up each word. This helps children to learn to read words and to spell words
GPCs
They are taught GPCs. This stands for grapheme phoneme correspondences. This simply means that they are taught all the phonemes in the English language and ways of writing them down. These sounds are taught in a particular order. The first sounds to be taught are s, a, t, p.
Blending
Children are taught to be able to blend. This is when children say the sounds that make up a word and are able to merge the sounds together until they can hear what the word is. This skill is vital in learning to read.
Segmenting
Children are also taught to segment. This is the opposite of blending. Children are able to say a word and then break it up into the phonemes that make it up. This skill is vital in being able to spell words.
Alphablocks Letter sounds
Letter Teams - Digraphs and Trigraphs