SMSC & FBV
SMSC stands for spiritual, moral, social and cultural. All schools in England must develop pupils' SMSC education as part of the national curriculum.
Schools also have a duty to promote Fundamental British Values (FBV) as part of the government's Prevent strategy.
SMSC Definition
Spiritual: Explore beliefs and experiences; respect values; discover oneself and the surrounding world; use imagination and creativity; reflect meaningfully on their own actions and the actions of others.
Moral: Recognise right and wrong; understand consequences; investigate moral and ethical issues; offer reasoned views.
Social: Use social skills in different contexts; work well with others; resolve conflicts; understand how communities work.
Cultural: Appreciate cultural influences; participate in culture opportunities; understand, accept, respect and celebrate diversity.
The Citizenship Foundation National SMSC Quality Mark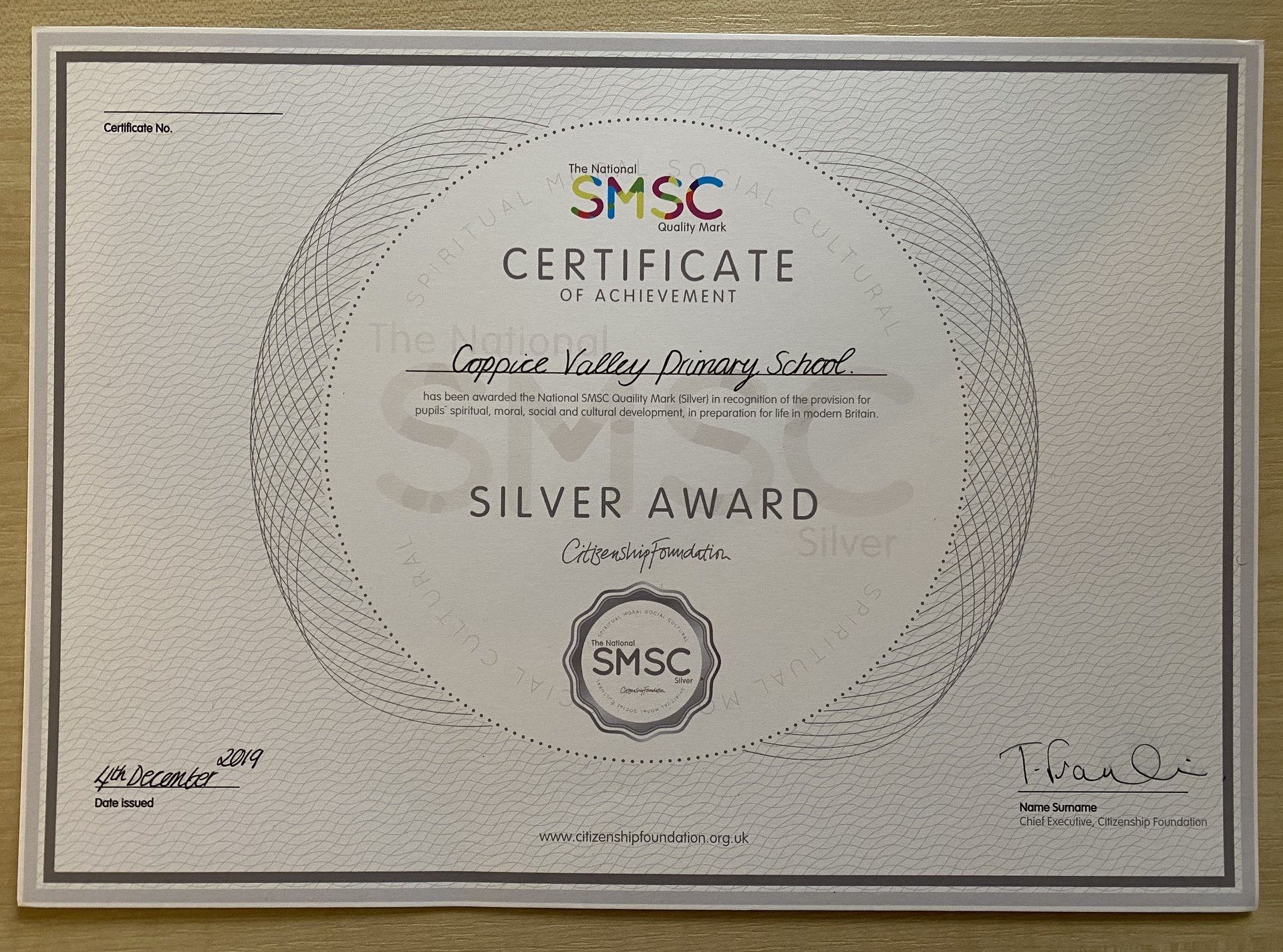 Coppice Valley is the proud recipient of a Silver SMSC award, recognising our work to promote excellent SMSC education.
Aims and Values
At Coppice Valley, we understand we have a duty to provide for the Spiritual, Moral, Social and Cultural education of pupils whilst promoting the British Values of Democracy, the Rule of Law, Individual Liberty, Respect and Tolerance. We recognise the valuable and considerable role that quality SMSC education plays in achieving our aims and values.
Our school values – Brave, Kind and Curious – are embedded in our school SMSC education through PSHE lessons, assemblies and teachable moments that occur in the everyday life of the school.
We recognise the vital importance of high quality SMSC education to our children. The Coppice 50 are fifty key experiences that develop our pupils' SMSC over their seven years with us. They are specific to the needs our pupils and have been drawn up with consultation with our stakeholders.
SMSC opportunities are also planned into our topics, For example, our Year 3/4 pupils do a community project that involves local politics, our Year 2 pupils visit places of worship such as a gurdwara and our Year 1 pupils appreciate the awe and wonder of the world with star-gazing. In history lessons pupils also consider matters of right and wrong i.e. when learning about slavery or WWII. In art and design lessons, links are made to great artists and world-art so pupils can learn cultural appreciation
Beyond lessons and the Coppice 50, our pupils SMSC & FBV education includes
Whole school assemblies and weekly celebrations of values with parents

Visits to different places of worship and visits to school by different representatives of religions and belief-systems

Annual residential experiences for years 1-6 (sleepovers at school in KS1 and short trips away in KS2)

Christmas and Easter celebrations with our community

Diversity week - celebrating different religions, races, families and abilities

Around the World day - celebrating the cultures of the families in our school

Give it Go day - opening up our pupils' minds to try new things. Last year we did fencing, karate, knitting, tree-climbing and camp-fire making,

Meditation and mindfulness - part of our regular practice at Coppice Valley

Charitable projects - we support local, national and global projects

Eco-schools - we have an Eco Council and are in the process of achieving Eco-school status

Healthy schools status

Termly whole school pupil voice conferences so our children can share their ideas with us about school improvement

Anti-bullying week - we teach pupils how to recognise and deal with bullying in our curriculum

YoiMoji character and values education - we teach our pupils how to be independent, resilient and resourceful

Sports competitions against local schools

Crucial crew - training for our year 6 pupils from local emergency services

Daily lunchtime calm club, run by our teaching assistants to provide a quiet space during lunch time for children who want some downtime or to talk to a peer or adult about their feelings

Buddies for new pupils - Reception pupils and in-year transfer pupils are given a buddy to help them settle in

Visits to the local council offices to see local politics in action

Whole school theatre visit - we all go the pantomime together!
Read our SMSC Action Plan for further improving our provision here
Coppice Valley pupils are able to show their SMSC development in the following ways.
The Spiritual Development of children is shown by their:
ability to be reflective about their own beliefs, religious or otherwise, which inform their perspective on life and their interest in and respect for different people's feelings, values and faiths.

sense of enjoyment and fascination in learning about themselves, others and the world around them, including the intangible

use of imagination and creativity in their learning

willingness to reflect on their experiences
The Moral Development of children is shown by their:
ability to recognise the difference between right and wrong, and their readiness to apply this understanding in their own lives.

to have a respect for the civil and criminal law of England

understanding of the consequences of their behaviour

interest in investigating, and offering reasoned views about, moral and ethical issues. Able to accept, respect and appreciate that others may have a different viewpoint.
The Social Development of children is shown by their:
use of a range of social skills in different contexts, including working and socialising with pupils from different religious, ethnic and socio-economic backgrounds

willingness to participate in a variety of social settings, cooperating well with others and being able to resolve conflicts effectively

willingness to volunteer

interest in, and understanding of, the way communities and societies function at a variety of levels

acceptance and engagement with the fundamental British Values of democracy, the rule of law, respect and tolerance of those with differing faiths and beliefs. Their attitudes towards these British values allows the children to participate fully in and contribute positively to life in modern Britain.
The Cultural Development of children is shown by their:
understanding and appreciation of the wide range of cultural influences that have shaped their own heritage and that of others

willingness to participate in, and respond to, for example, artistic, musical, sporting, mathematical, technological, scientific and cultural opportunities

understanding and appreciation of the wide range of different cultures within school and further afield as an essential element of their preparation for life in modern Britain

interest in exploring, understanding of, and respect for cultural diversity and the extent to which they understand, accept, respec

t

and celebrate diversity, as shown by their attitudes towards different religious, ethnic and socio-economic groups in the local, national and global communities.