RE-OPENING PLANS
School is now open for more children!
The government have asked us to re-open schools using a phased approach. In our setting, this currently only applies to Reception, Year 1 and Year 6 pupils and our continued provision for Priority Groups e.g. Key Workers' children and Vulnerable Children. Red Kite Trust have asked all their primary schools to open up in a staggered way, as follows:
Monday June 1st – open to Priority Group Childcare (Key Workers and Vulnerable Groups) previously housed at Rossett Acre Hub
Tuesday June 2nd – open to Reception and Year 1 pupils plus Priority Group childcare
Monday June 8th – open to Year 6, Reception and Year 1

pupils

plus Priority Group childcare.
Monday June 22nd - phased return of more year groups
All parents must read our Coppice Valley Parent Covid-19 Reopening Guidance before your child returns to school.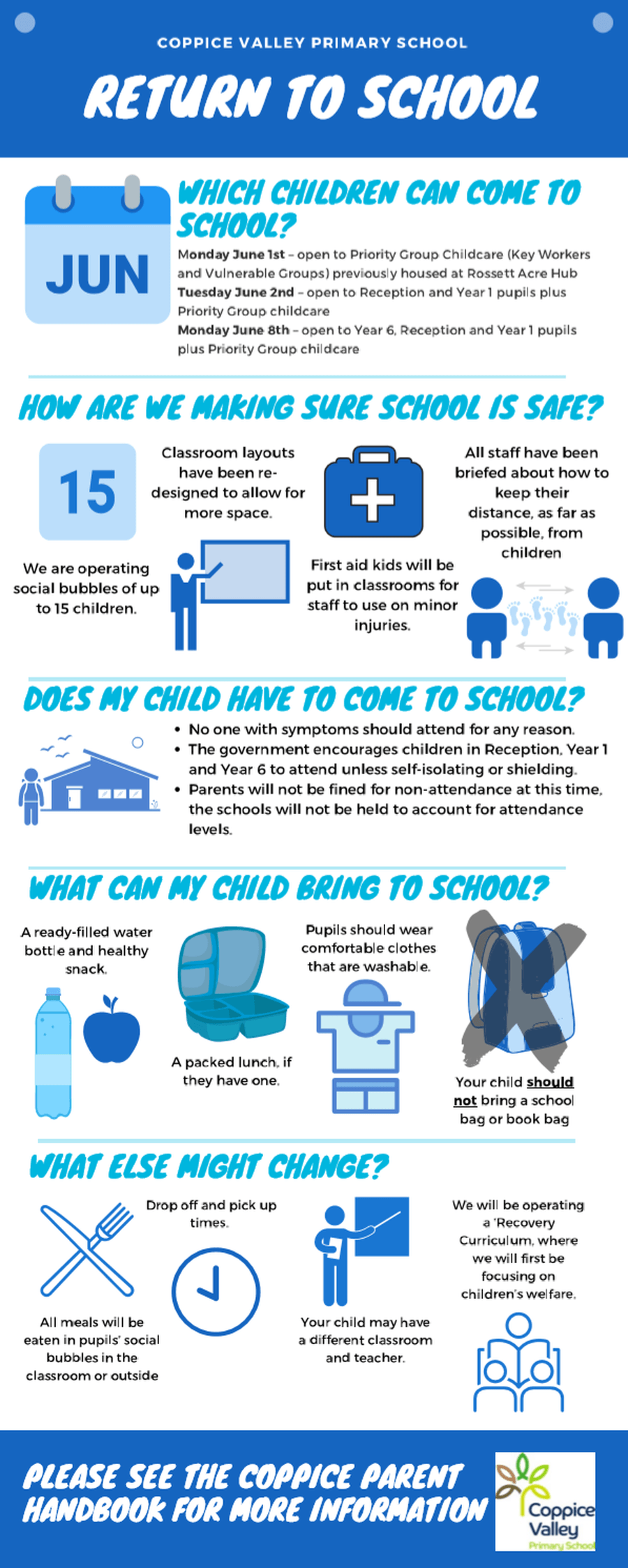 To help prepare your child for returning to school we've made some videos of what the classrooms now look like. We've also made videos showing you the entry/exit points and drop off/collection points.
You will receive an email to let you know which group your child has been allocated and which entry/exit and drop off/pick up point you should use.
Reception and Year 1 children are in Oak, Beech, Forest or Ash. You can see from the videos that we've gone for making the spaces big and open, so we can play games, do drama and role play etc. The plan for ALL children in school is to be learning, playing and exercising outside as much as possible and not sitting at desks all day. We've got the desks there for if we need them and to be a base for children's belongings. You'll see in the videos that we've got trays for each child with their own equipment in them. (We've labelled up trays and chairs/desks for each child who may come - don't worry if you see your child's name and you're not thinking of sending them. We just wanted to be prepared!).
Our curriculum for the first few weeks will be focused on rebuilding relationships, developing confidence and concentration, encouraging mental health and well-being. From this good foundation, we will then move on to academic learning.
Main Front Gate Route and Drop Off/Pick Up Point
Hall Door Route and Drop Off/Pick Up Point
Playground Route and Drop Off/Pick Up Point
Side Gate Route and Drop Off/Pick Up Point