Safeguarding Children
Coppice Valley Primary School is committed to safeguarding and promoting the welfare of all children. We expect all staff and volunteers to share this commitment.
We are fully committed to ensuring that consistent effective safeguarding procedures are in place to support children, families and staff at school.

We ensure that all staff, volunteers and governors receive appropriate training, guidance and support to undertake the effective safeguarding of children.
Any safeguarding concerns are passed through the designated safeguarding leaders within the school. The Designated Safeguarding Lead is Mrs Meadus and the Deputy Designated Safeguarding Leaders are Mr Cawte and Miss Watkinson.
Our Safeguarding Lead training is regularly renewed every 2 years with on-going additional updates from safeguarding experts, NYSCP briefings and NSPCC and CASPAR bulletins. This training also helps to develop our provision for personal development within school. Along with all staff in school, we also receive regular training updates in line with Red Kite Learning Trust policy.
Safeguarding Procedures
We safeguard our pupils by:
Identifying pupils who may need early help or at risk from harm
Helping pupils by reducing the risk to them and securing the help they may need
Managing the risk of harm to our pupils by following safer recruitment and allegation procedures.
We follow North Yorkshire Safeguarding Children Partnership procedures. Click here to see our Safeguarding and Child Protection Policy. At all times we will endeavour to treat families with respect, dignity and courtesy only sharing sensitive and confidential information where we have permission or a duty to do so in order to protect the child.
Safeguarding Curriculum for Pupils
We teach our pupils about safeguarding so they know how to keep themselves safe and reduce risks. From Reception to Year 6, pupils learn about safeguarding including online safety, stranger danger, road and fire safety and first aid.
Below is our child-friendly version of our Safeguarding Policy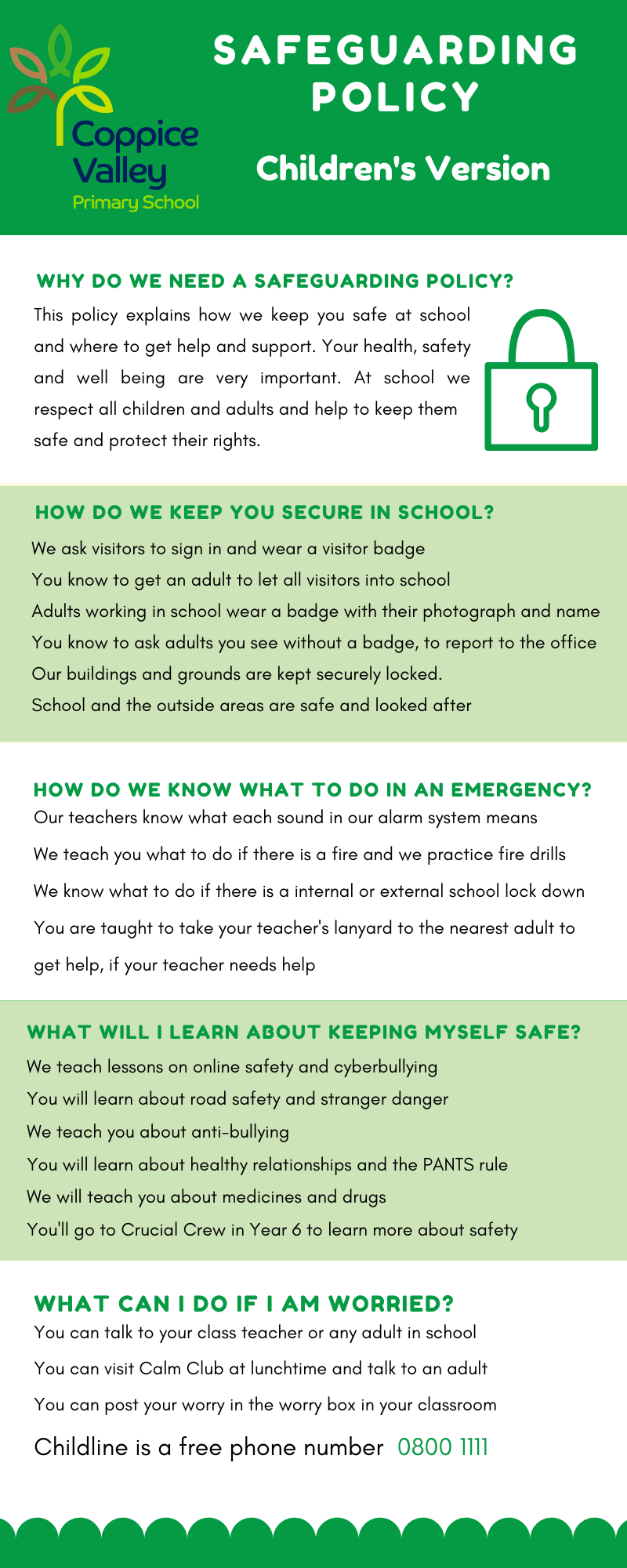 Useful Information:
Spotting signs of abuse: https://www.nspcc.org.uk/what-is-child-abuse/types-of-abuse/
Useful Contacts if you have a safeguarding concern:
If you have a safeguarding concern about a child in school please contact Mrs Meadus at school on 01423 563760.
Safeguarding is everyone's responsibility, so if you have a concern about any child (person under the age of 18) you can call North Yorkshire Safeguarding Children's Partnership (24 hours) 01609 780780.

A

ll calls are taken seriously and can be taken in confidence.
Click here to go to the NSPCC website or call 0800 800 500
If you are a child: NSPCC Childline 0800 1111 or Childline online https://www.childline.org.uk/
In case of emergency or risk of serious harm, call 999.